Sporting Awards
The School Games Mark continues to reward schools and other educational establishments for their commitment to and development of competition, school sport and physical education.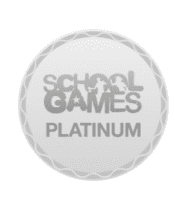 We currently hold the School Games Platinum Mark. The School Games Mark is a government led awards scheme launched in 2012 to reward schools for their commitment to the development of competition across their school and into the community. As a school, we audit and demonstrate our commitment to delivering the best possible sporting experiences for children at our school; that PE is embedded; and that all children are enjoying and living healthy lifestyles through PE and sport. PE and sport are at the very heart of school life at Woodstock Primary; there are a whole range of educational, health and wellbeing benefits from delivering high quality PE and school sport, and we see on a regular basis, that when it is delivered well, it can transform the lives of pupils.
In order to achieve any level of the School Games Mark, schools and educational establishments must meet a set of prerequisites.
During the academic year, the applying school or educational institution for young people in years 3 to 13 must have:
Participation
A system in place to track young people's participation in the School Games;
Opportunities that attract less active young people to participate in physical activity;
Completed the Inclusive Health Check tool as accessed on your school's dashboard on www.yourschoolgames.com by the end of the summer term 2017;
A positive approach to delivering physical activity.
Competition
Held or accessed a School Games Day as a culmination of a year round competition programme;
Registered a School Games Day date on your dashboard on www.yourschoolgames.com;
A calendar of competition that demonstrates opportunities for young people with SEND to take part in competitions;
A notice board and/or in-house school digital system that promotes School Games activity and uses social media for the same purpose.